This article originally appeared on the Huffington Post.
Tomorrow morning millions of voters in Pakistan will cast their ballots in perhaps the most crucial vote in the nation's sixty years of independence. The bloody campaign season has been rocked by a series of well coordinated suicide attacks, the most notable of which killed former prime minister Bhutto just twelve days before the election's originally scheduled date of January 8th. While voters in the United States are deciding which candidate they're going to throw their support behind, voters here are mulling over whether to vote at all. The ultra violent Tehrik-e-Taleban Pakistan, an indigenous mimic of the Afghan Taleban movement, are threatening the populace on election day dare they risk participation. Simultaneously, hard line Islamist politicians are instructing their legions to boycott the elections on the basis that they are guaranteed to be rigged with massive voter fraud and will only further entrench Musharraf's power.
Yesterday, adjacent to Lahore's massive moghul Red Fort, an anti-government, seemingly anti-everything rally was held by the All Parties Democratic Movement led by former world champion cricketer Imran Khan who star's as the groups handsome and iconic public face. An odd coalition of political Islamists, violent irredentists, and various flag bearing sub-national ethnic groups put on a display of fervor primarily aimed at Pakistan's domestic media. As can be expected at such a carefully orchestrated gathering, the crowd chanted "go Musharraf, go", called for the defeat of "Hindustan" (India) and for the further humiliation of George W. Bush.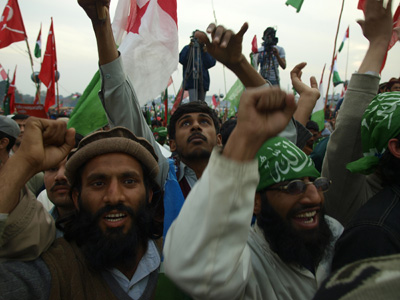 Each speaker, one after the next, did their best to stir up their constituents without ever stating what positions they actually stood for other than the wildly unrealistic goal of wresting Indian-administered Kashmir from Delhi. Mr Khan's politically weak Pakistan Tehrik-e-Insaaf party linked up with Jamaat-e-Islami, one of the core elements of the Muttahida-Majlis-e-Amal, a pan-Islamic political alliance, to essentially tell people to stay at home and shun Musharraf's attempt at steering Pakistan into a democratic transition. People may be staying home indeed but it will be because they are under duress from fiercely escalating nihilistic violence, including an attack on an opposition Pakistan People's Party rally on Saturday killing thirty seven in the country's unstable northwest, rather than because corrupt power brokers are telling them to do so.
While the crowd was made up primarily of supporters of these fairly mainstream parties, there were several members of supposedly banned radical anti-Shia outfits and Kashmiri separatists among them who would have the most to lose should the nation change course domestically and internationally and its foreign policy toward India or the United States shift in a softer direction. Qazi Hussein Ahmad, the president of Jamaat-e-Islami, invoked the "martyrdom" of Nawab Akbar Bugti, a aged guerilla leader in Balochistan who was assassinated by Musharraf as he lead a Baluchi nationalist uprising against the federal government's transfer the of the sparsely populated province's resources, primarily natural gas, to populous Punjab province and the millions in Karachi. Bugti's name was used again and again to demonstrate that his killing was an attack on Pakistan's poor writ large through the "enlightened moderation" the General has tried to impose upon the rebels and rejectionists who operate in the country's zealous political fray.
Upon leaving the APDM rally, I spotted a crowd massing around a cluster of the Punjab police's blue Toyota Hi-Lux pick-ups in front of the Data Darbar, a legendary mosque in the heart of old Lahore. A man in a neatly pressed shalwar kameez and tweed vest quietly ushered me to the side of a white sedan and asked, as many people on the subcontinent do, where I was from. I replied that I was from New York and a journalist. He instructed me to take my shoes off and run inside the mosque's courtyard. I rushed through the white marble columns seeing a thick circle of bedraggled worshippers. In the center of the circle was former Prime Minister Nawaz Sharif sitting cross-legged speaking very slowly into a loudspeaker being held by one of his aides. Recently returned from his banishment in Saudi Arabia, he was now on the street and more importantly in the mosque, telling the poor and the anxious that he was one of them now and that he did not fear the elections and nor should they. As head of the Pakistan Muslim League-Nawaz (PML-N), Mr. Sharif was directly challenging Musharraf's rival wing of the party, the Pakistan Muslim League-Quaid-e-Azam (PML-Q) led by Musharraf's candidate Chaudhry Pervaiz Elahi When the former PM got up to leave, excitement turned to pandemonium as his private security men began to transfer him to the protection of the Punjab police. He then stood on the hood of one of the police trucks feigning a triumphant comeback and defying the suicide bombers who would love nothing more than to further de-stabilize the electoral process as the Islamic Republic of Pakistan teeters between the edge of anarchy and the prospect of a peaceful, if imperfect, democratic reconciliation. Knowing that Mr Sharif is high on the militant's hit list, I jumped on a motorcycle and sped the opposite direction. Such is the campaign trail in Pakistan.